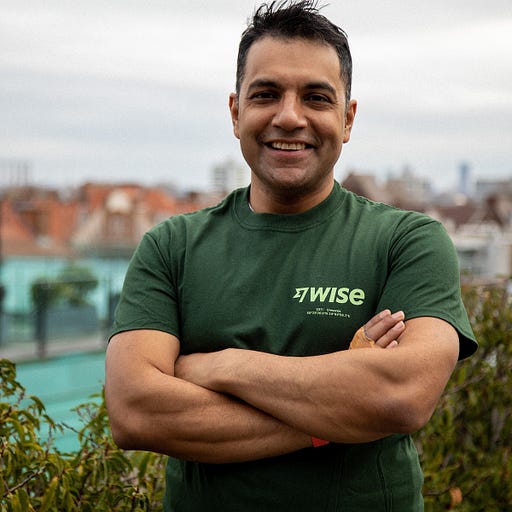 Apr 18 • 38M
Nilan Peiris, Chief Product Officer at Wise – Building a Multi-Billion Fintech Powerhouse, Global Expansion Strategies, & Customer-Driven Innovation
Miguel Armaza sits down with Nilan Peiris, Chief Product Officer at Wise (WISE.L), a £6 billion global fintech that helps clients move money around the world.
This article is part of Fintech Leaders, a newsletter with 53,000+ dreamers, entrepreneurs, investors, and students of financial services. I invite you to share and sign up! And, if you enjoy this conversation, please consider leaving a review on Apple Podcasts, Spotify, or wherever you get your shows so more people can learn from it.
Today I sit down with Nilan Peiris, Chief Product Officer at Wise (WISE.L), a global fintech that helps clients move money around the world. Founded in 2011 by Kristo Käärmann and Taavet Hinrikus, Wise went public on the London Stock Exchange in 2021 and has a current market cap of £6 billion, has served 16 million people and businesses, and processes £9 billion in monthly cross-border transactions across 170 countries in 50 currencies.
In this episode, we discuss:
Building through a mission-driven approach and why it's crucial for companies to have very clear missions
"The key to growth is product, as opposed to marketing… For early-stage companies, marketing is a distraction... The return on time, the return on capital invested on the product side is so, so much higher than on the marketing side."
Nilan has been an investor and mentor to 100+ startups and he strongly advises early-stage founders to focus on solving a problem and building a product that is significantly better than current solutions. If your product is a 10x improvement from existing alternatives, you will be able to convince users to switch and recommend it to others – thus fueling word-of-mouth growth. Instead of concentrating on marketing strategies to grow a business, he believes that founders should invest their time and resources into improving the product because the return on investment for product improvement is much higher than that of marketing, especially for early-stage companies looking to build sustainable growth.
How Wise turned a consumer product into a B2B offering AND an infrastructure business - essentially building three companies inside a single firm.
"I realize that everyone in the world isn't going to download our app. People are still going to be using banks and other platforms, and we should be there where the payment is happening."
One of the most interesting aspects of Wise is that they have built multiple business lines within the company, including Wise Transfer, the International Account, and Wise Platform. The international account is particularly popular among SMEs for managing money internationally, while the Wise Platform offers embedded services to banks and non-banks such as Google Wallet and Stripe. The Wise platform has been massively successful and the company projects the majority of its volume will one day come through their API business.
Building customer trust through transparency and how this can lead to high customer satisfaction and strong referrals
"We understand that customers recommend us for three reasons: (1) If it's cheap, (2) if it's quick, and (3) if it's easy to use. And what's more than that, it needs to be 10x cheaper. Much, much faster. And much, much easier to use for us to get word of mouth growth."
According to Nilan, Wise's consistent 70% word-of-mouth growth is a direct result of building a superior product and user experience. To achieve this high level of referral growth, Peiris explains that any company needs to offer a service that is 10x cheaper, faster, and easier to use than the existing alternatives, with price being the most crucial factor.
Turning regulatory challenges into opportunities
… and a lot more!
"Customers hated the experience... But the trick and the kind of magic of ways is we got our customers to complain, not to us, but to the regulator. And it took us a year of lobbying the regulator before we got the world's first eKYC license in Singapore."
Want more podcast episodes? Join me and follow Fintech Leaders today on Apple, Spotify, or your favorite podcast app for weekly conversations with today's global leaders that will dominate the 21st century in fintech, business, and beyond.
---
Previous Episodes You May Enjoy:
Secrets to Managing Your Board of Directors - From Board Members of Nubank, Acorns, dLocal, Justworks, Upgrade, XP, Alibaba, & More Global Titans
Alex Prot, Qonto CEO & Co-Founder – €622 Million to Empower European SMEs, Building a Fintech Giant, & The Strategy to Reach One Million Clients
Mercedes Bent, Partner at Lightspeed – Unlocking Fintech's Potential Across the Americas and Balancing Priorities in Venture Capital Investing
Bruno Balduccini, Pinheiro Neto Partner – How Brazil Became a Global Fintech Leader & What Other Countries Can Learn From Their Success
Leif Abraham, Co-Founder of Public.com – Building a Loyal User Base of 3 Million Users in 3 Years & The Future of Retail Investing
Prajit Nanu, CEO & Co-Founder of Nium – Building a Billion Dollar Business, Startup Recruiting Mistakes, & The Power to Staying Lean and Scrappy
Steve McLaughlin, Founder of FT Partners – 2023 Predictions, Making Sense of the Global Fintech Market, & Valuable Founder Advice
Katlego Maphai, Yoco CEO/Co-Founder – Building a South African Digital Giant, Empowering Small Businesses, & Founder Lessons to Overcome Adversity
---
Video Highlights You Will Definitely Like:
---
Miguel Armaza is Co-Founder & Managing General Partner of Gilgamesh Ventures, a seed-stage investment fund focused on fintech in the Americas. He also hosts and writes the Fintech Leaders podcast and newsletter.