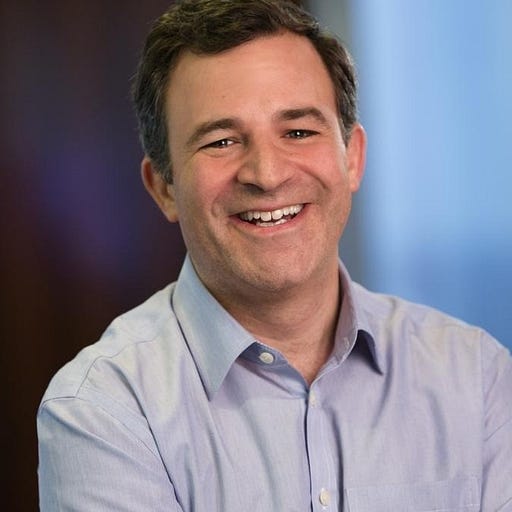 Nov 8, 2022 • 44M
Matt Harris, Partner at Bain Capital Ventures – Lessons From Three Decades of Fintech Investing, What Defines Great Founders, & Embedded Finance's Massive Potential
Miguel Armaza sits down with Matt Harris, Partner at Bain Capital Ventures, who's been investing in fintech since 1995 and has seen it all.
This article is part of Fintech Leaders, a newsletter with over 47,000 dreamers, entrepreneurs, investors, and students of financial services. I invite you to share and sign up here!
My guest today is Matt Harris, Partner at Bain Capital Ventures and one of the Fintech OG legends who started his investing career back in 1995 and has been working with fintech entrepreneurs throughout several cycles. Some of his investments include Billtrust, Corvus Insurance, Digital Currency Group, Flywire, IEX, Justworks, GoCardless, Orum, Finix, Acorns, and many more.
In this episode, I stop by the Bain Capital Ventures office in New York, where Matt and I discuss:
Investing through economic cycles. Matt was a fintech VC during the Dot-com bubble - what did he learn once the bubble burst and what should young VCs keep in mind today?
"I started my own firm when I was 24 and it was 1997. So for the first couple years… investing seemed like a pretty easy thing to do. Everything worked. So I didn't have much of a focus during the dot-com bubble, and it was really actually only after the bust that I did some sort of soul searching and contemplation about how I was going to build a career."
B2B vs B2C Fintech. Matt overwhelmingly prefers backing B2B companies with little to no credit risk. Why is that?
"The fact is, consumer-focused incumbents are not terrible, and the consumer-focused insurgents have really struggled. Whether it be the neobanks… certainly all the ones that have gone public are trading for less than cash. The consumer-focused insurance players, trading for less than cash… Consumer-focused lenders, trading for less than cash…"
The Future of fintech and why Bain is excited about the potential of embedded finance. Btw, check out their recently published report - Embedded Finance: What It Takes to Prosper in the New Value Chain.
"If you look at my investments, you can really divide them quite naturally into two camps: FinTech infrastructure companies… and software companies… so this archetype has really been how I've invested the last 10 years, backing software companies to monetize through financial services, and it just took me a minute to realize that's what I was doing."
What makes a great investor, how founders should think about their board, why NYC is the capital of fintech… and a lot more!
"Great boards should feel like any team at the company… and it really is one of the founder's primary jobs to make that team coherent, and to create a context in which people show up as the best version of themselves - which is to say, candid and forthright and not shy or compliant."
Want more podcast episodes? Join me and follow Fintech Leaders today on Apple, Spotify, or your favorite podcast app for weekly conversations with today's global leaders that will dominate the 21st century in fintech, business, and beyond.
---
Previous Episodes You May Enjoy:
Matan Bar, CEO/Co-Founder of Melio – Always Remember to Keep The Main Thing, The Main Thing
Stephanie Choo, Partner at Portage – Counter-Cyclical Fintech Opportunities, The Great Canadian Fintech Market, & The Future of Crypto
Hristo Borisov, CEO/Co-Founder of Payhawk – Building Bulgaria's First Unicorn, Over-investing in Talent, & How to Keep Your Team Focused
Mary Ann Azevedo, Senior Reporter at TechCrunch – The Good and Ugly Sides of Fintech, What Great Journalism Really Means, & Why Startups Represent Hope
Mike Cagney, Founder of Figure & SoFi – Building Massive Transformational Companies, Key Founder Lessons, & How Blockchain is Revolutionizing Financial Services
General Atlantic's Martín Escobari – Three Traits of the Best Entrepreneurs, 42 years of Global Investment Lessons & How the Regret Minimization Framework Changed his Life
Immad Akhund, CEO/Founder of Mercury – Focus on Your Clients and Forget About Competitors, Planning for Startup Winter, & The Power of Networking
Eric Glyman, Ramp Co-Founder/CEO – From Zero to $4 Billion in 30 Months, The Future of Business Banking, & Why you need to Double Down on your Strengths and Hire for Your Weaknesses
---
Video Highlights You Will Definitely Like:
Miguel Armaza is Co-Founder & Managing General Partner of Gilgamesh Ventures, a seed-stage investment fund focused on fintech in the Americas. He also hosts and writes the Fintech Leaders podcast and newsletter.