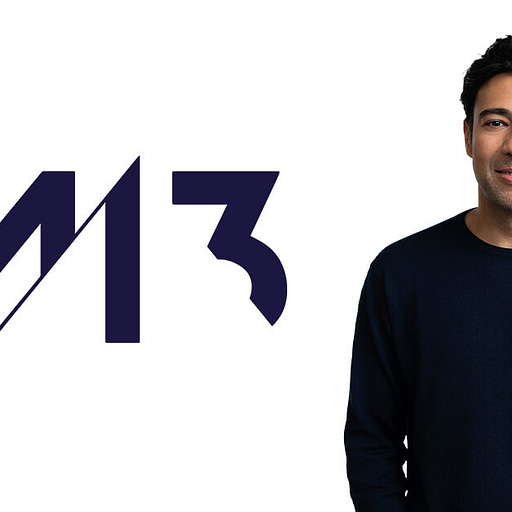 Jan 10 • 38M
Latif Peracha, General Partner at M13 - The Future of Money, Investing Frameworks, & Lessons From Working With Richard Branson
Miguel Armaza sits down with Latif Peracha, General Partner at M13, a VC with $900M+ of AUM, focused on enabling technologies that will power the future of consumer behavior.
This article is part of Fintech Leaders, a newsletter with 50,000+ dreamers, entrepreneurs, investors, and students of financial services. I invite you to share and sign up! And, if you enjoy this conversation, please consider leaving a review on Apple Podcasts, Spotify, or wherever you get your shows so more people can learn from it.
In this episode, I sit down with Latif Peracha, General Partner at M13, a venture capital firm with over $900M of assets under management, focused on enabling technologies that will power the future of consumer behavior.
Latif is in charge of the investing strategy for M13 and leads the Web3 and fintech verticals, with investments in companies like Rho, Lightning Labs, Solana, Nori, Delphia and many more.
Previously, he was a Managing Director at Virgin Group where he led investing in the Americas and worked directly with Richard Branson.
Are you looking to jumpstart your career in the exciting world of fintech? Or maybe you're trying to break into the banking world? Check out our brand new Fintech Leaders job board. The perfect place to find your dream job or meet that ideal candidate you've been looking for.
Some of the companies actively hiring include Square, Stripe, Revolut, Wise, Affirm, and many more. It's FREE for candidates, and companies can get their first month off with discount code "FTLFreeMonth" throughout the month of January.
Why wait? You've heard and read our interviews with the best Fintech Leaders, how about you join them and start building the future of financial services!
In this episode, we discuss:
Investing in the future of money and how companies at the intersection of financial services and web3 are modernizing established markets, while building industries of the future
"We look for two major things. First, are teams building software that can scale with a clear market in mind? That market can be an established one like medium-sized companies in the US. Or it can be an emerging market, like web3 developers. And also, we look for teams who are predominantly building their own infrastructure."
I found it interesting that not only is M13 looking for companies building software that can scale rapidly in specific markets, but they also have a preference for teams who build their own infrastructure rather than relying on partner models. This point of view challenges the growing vertical of fintech as a service, where the central thesis is to provide technology that enables non-financial firms to offer financial services.
How M13 analyzes the long-term potential of a business and looks for visionary leaders in industries with significant tailwinds when making investment decisions
"The frameworks that I use to make an investment are both qualitative and quantitative. They're both left brain and right brain. And that's why I think VC is such an interesting market, because you can't just look at a spreadsheet, with a TAM analysis, and say that's where you should make an investment."
Latif uses both qualitative and quantitative methods to make investment decisions. He looks for market penetrating investments, where there is a large established market that is ripe for disruption, but also for market expanding investments, where he believes a market has the potential to grow significantly in the future. There's opportunity in both models and M13 is particularly focused on FinTech, web3/crypto, and digital health.
M13 remains bullish on crypto, but it's gonna take courage for investors to continue backing companies in the category through uncertainty and volatility
"There needs to be much better US regulation, so that companies don't have to go offshore and be based in the Bahamas. And, secondly, I think there needs to be just better governance."
What Latif learned working with Richard Branson and whether every entrepreneur should aspire to be like Richard… and a lot more!
"[Richard Branson] He's tremendously optimistic. And, what's interesting is, he's not a venture capitalist by background, he's an entrepreneur, but he thinks like a VC. Which is, what if it goes right? how do we make this go right?"
A quality of Richard Branson that stood out in this conversation is Richard's ability to blend his personal and professional life effectively. I get why this happens and I've seen it across the founder universe (myself included). As an entrepreneur, your company is your baby, and your customers, employees, and ecosystem partners often become close friends. Blending the two is almost inevitable and sounds like it's been a critical part of Richard Branson's success.
Want more podcast episodes? Join me and follow Fintech Leaders today on Apple, Spotify, or your favorite podcast app for weekly conversations with today's global leaders that will dominate the 21st century in fintech, business, and beyond.
---
Previous Episodes You May Enjoy:
Secrets to Managing Your Board of Directors - From Board Members of Nubank, Acorns, dLocal, Justworks, Upgrade, XP, Alibaba, & More Global Titans
Steve McLaughlin, Founder of FT Partners – 2023 Predictions, Making Sense of the Global Fintech Market, & Valuable Founder Advice
Medha Agarwal, Partner at Redpoint Ventures – Doubling Down on Fintech Investing, Modernizing the CFO Tech Stack, & The Power of Content Creation
Matt Harris, Partner at Bain Capital Ventures – Lessons From Three Decades of Fintech Investing, What Defines Great Founders, & Embedded Finance's Massive Potential
General Atlantic's Martín Escobari – Three Traits of the Best Entrepreneurs, 42 years of Global Investment Lessons & How the Regret Minimization Framework Changed his Life
Katlego Maphai, Yoco CEO/Co-Founder – Building a South African Digital Giant, Empowering Small Businesses, & Founder Lessons to Overcome Adversity
Matan Bar, CEO/Co-Founder of Melio – Always Remember to Keep The Main Thing, The Main Thing
Mike Cagney, Founder of Figure & SoFi – Building Massive Transformational Companies, Key Founder Lessons, & How Blockchain is Revolutionizing Financial Services
---
Video Highlights You Will Definitely Like:
---
Miguel Armaza is Co-Founder & Managing General Partner of Gilgamesh Ventures, a seed-stage investment fund focused on fintech in the Americas. He also hosts and writes the Fintech Leaders podcast and newsletter.