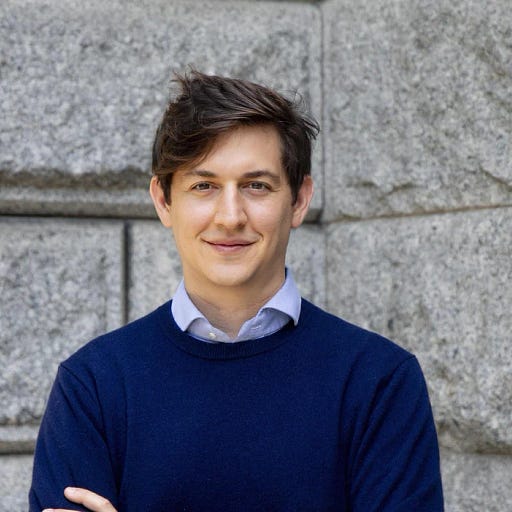 May 9 • 36M
David Haber, a16z General Partner - Building Fintech Giants, Leading With Software, What Makes a Truly Great VC
Miguel Armaza sits down with David Haber, General Partner at Andreessen Horowitz (a16z), one of the largest Venture Capital funds in the world, founded in 2009 by Marc Andreessen and Ben Horowitz.
This article is part of Fintech Leaders, a newsletter with 54,000+ dreamers, entrepreneurs, investors, and students of financial services. I invite you to share and sign up! And, if you enjoy this conversation, please consider leaving a review on Apple Podcasts, Spotify, or wherever you get your shows so more people can learn from it.
Today I sit down with David Haber, General Partner at Andreessen Horowitz (a16z), one of the largest Venture Capital funds in the world, founded in 2009 by Marc Andreessen and Ben Horowitz.
Based in NYC, David focuses exclusively on investing in global fintech. Before a16z, he founded Bond Street, a NY fintech that aimed to transform small business lending in the US. Bond Street was eventually acquired by Goldman Sachs in 2017.
In this episode, we discuss:
Company building lessons from his experience at Bond Street and why he always looks for people with "humble confidence"
"I bias primarily towards FinTech companies that lead with software, as opposed to leading with a financial product."
Not only has David backed a lot of successful fintech companies, but he also built Bond, a B2B fintech, and eventually sold it to Goldman Sachs. He shared valuable lessons for aspiring entrepreneurs:
Build an exceptional team. A talented and dedicated team was one of the key factors behind Bond Street's success. Several team members went on to assume significant roles in other fintech companies, showcasing the caliber of the talent.

Humble competence is key. Team members who exhibit humble competence are extremely valuable. They bring valuable skills and experience to the table while maintaining humility and openness to learning from others.

Embrace the karmic boomerang: Helping others without expectation is the name of the game! This approach can generate goodwill and long-term benefits and you should always look for colleagues who embrace this mentality.

Figure out customer acquisition. Haber admits that Bond Street faced difficulties in scaling customer acquisition cost-effectively. He now believes that fintech companies should start with a product or software that has a near 100% approval rate to build a larger user base and later introduce higher LTV products.

Start with the right wedge product. Starting with term loans as Bond Street's wedge product was probably the wrong choice. Term loans had great unit economics but were infrequent.
Key qualities of a great venture capital investor
"From an entrepreneur's perspective, what you really wanted was, somebody who had deep conviction in what you're building, and, honestly, not care what other people thought."
There are many aspects that can help VCs become great at their job, but David boils it down to three key qualities:
Entrepreneurs value investors with deep conviction. Startup founders appreciate investors who believe in their vision and don't rely on the decisions of others when deciding to invest. Having conviction in the idea, entrepreneur, and thesis is essential.

Being non-consensus and obstinate can lead to success. Successful investors often have clarity of thought and are willing to take a stand even when their opinions differ from the majority. If you are proven you right, this can result in that sweet exponential outcome everyone looks for.

Move quickly. Investors who are decisive and act swiftly are often admired by entrepreneurs, as their ability to quickly recognize potential can lead to significant gains in the long run.
A look inside a16z and the vision of Mark and Ben for the firm
… and a lot more!
What's it like to work at a16z?
Andreessen Horowitz (a16z) is focused on firm building. David shares that a16z operates more like a company than an investment fund, with an emphasis on building a source of compounding advantage and a strong moat.

The entrepreneurial culture is pervasive. The firm is run by entrepreneurs, and this culture of taking risks, experimenting, and striving for constant improvement is deeply ingrained in the organization. This culture starts with Marc Andreessen and Ben Horowitz and trickles down throughout the firm.

Marc and Ben are actively involved. Despite the size of the company and their prior successes, both Marc and Ben remain deeply engaged in the day-to-day operations of a16z. Their ambition and intensity set the tone for the entire organization, contributing to the firm's overall success.
Want more podcast episodes? Join me and follow Fintech Leaders today on Apple, Spotify, or your favorite podcast app for weekly conversations with today's global leaders that will dominate the 21st century in fintech, business, and beyond.
---
Previous Episodes You May Enjoy:
Itai Damti, CEO & Co-Founder of Unit – The Future of Software-Driven Fintechs, Solving Atomic-Level Problems, Founder Mistakes and Successes
Jane Alexander, Carta CMO – Transforming Private Markets, How to Expand Your Product Suite, Crucial Productivity Hacks
Nilan Peiris, Chief Product Officer at Wise – Building a Multi-Billion Fintech Powerhouse, Global Expansion Strategies, & Customer-Driven Innovation
Secrets to Managing Your Board of Directors - From Board Members of Nubank, Acorns, dLocal, Justworks, Upgrade, XP, Alibaba, & More Global Titans
Alex Prot, Qonto CEO & Co-Founder – €622 Million to Empower European SMEs, Building a Fintech Giant, & The Strategy to Reach One Million Clients
Mercedes Bent, Partner at Lightspeed – Unlocking Fintech's Potential Across the Americas and Balancing Priorities in Venture Capital Investing
Steve McLaughlin, Founder of FT Partners – 2023 Predictions, Making Sense of the Global Fintech Market, & Valuable Founder Advice
Katlego Maphai, Yoco CEO/Co-Founder – Building a South African Digital Giant, Empowering Small Businesses, & Founder Lessons to Overcome Adversity
---
Video Highlights You Will Definitely Like:
---
Miguel Armaza is Co-Founder & Managing General Partner of Gilgamesh Ventures, a seed-stage investment fund focused on fintech in the Americas. He also hosts and writes the Fintech Leaders podcast and newsletter.